Note: these instructions have been updated August 2021, so this post should be valid for at least another 3 weeks (*sarcasm*).
If you have a Facebook page for your business, it's important to set a custom username so clients can find you by searching facebook.com/yourbusiness.
Here's how to add a custom username to your business page (this is different than a personal profile). Like the layouts, the rules often change, so you may need to have a minimum number of page 'Likes' before the username can be changed. Results may vary – good luck.
Log in to your personal Facebook account and go to Home.
Under Your Pages (sidebar at left) click the name of the page you'd like to edit.
If you haven't set a username, it should show an option to set it directly under the Facebook page name in the header. If you're wanting to change an existing username, you'll need to scroll down to the About section and edit 'Page Info.'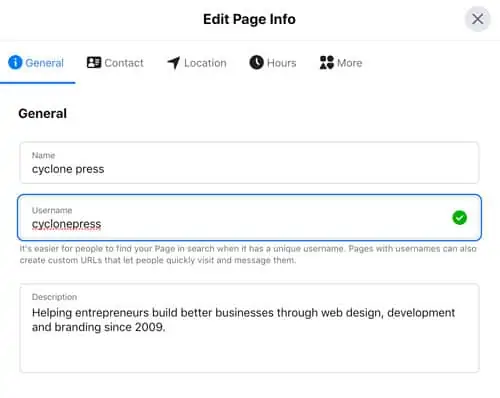 Update your username, then wait for it to save (it appears Facebook is into autosaving things these days). Make sure your username is active by typing facebook.com/yourbusiness in your browser search bar. If it goes straight to your business Facebook page, you're ready to begin using this address on your website and other promotional materials.