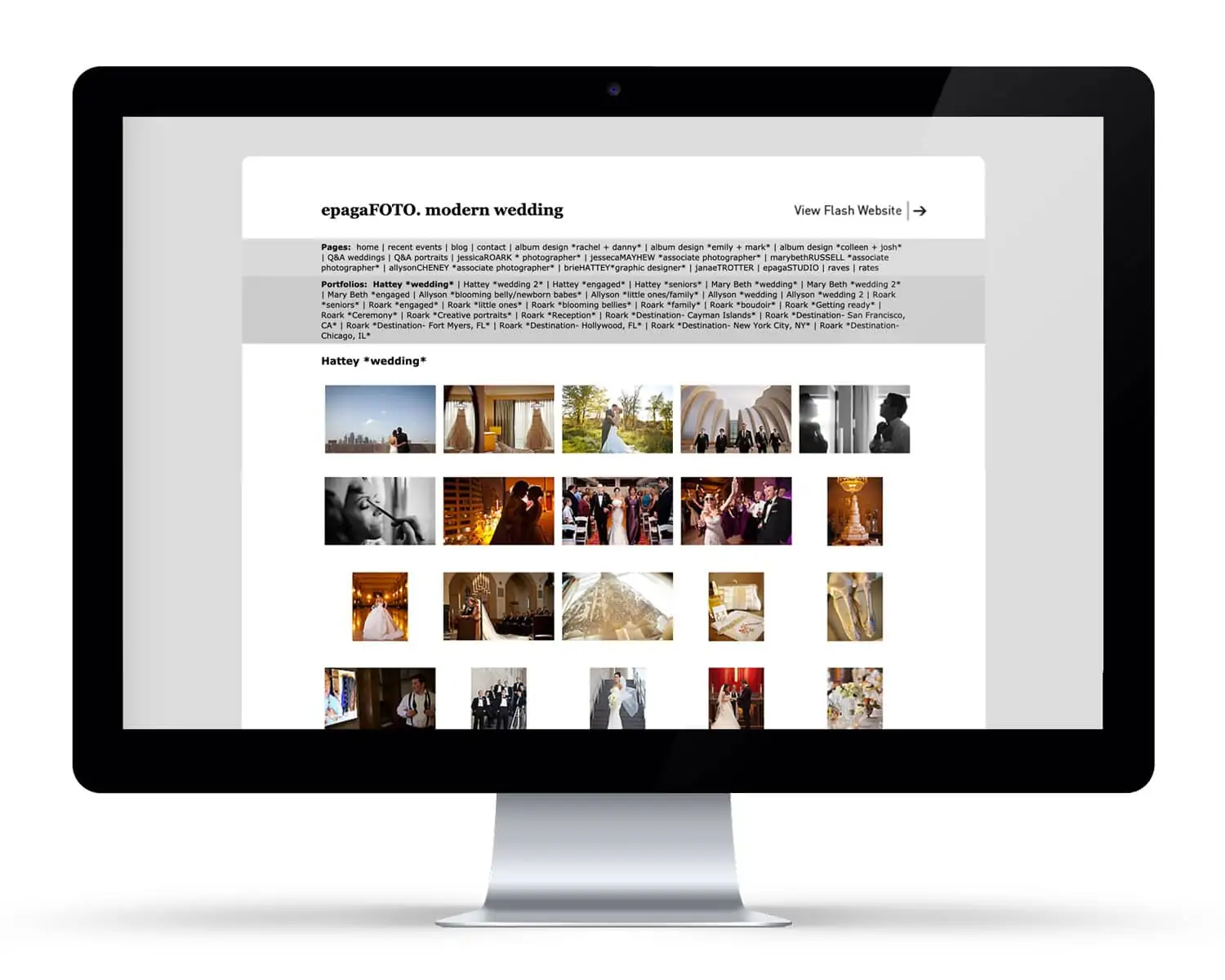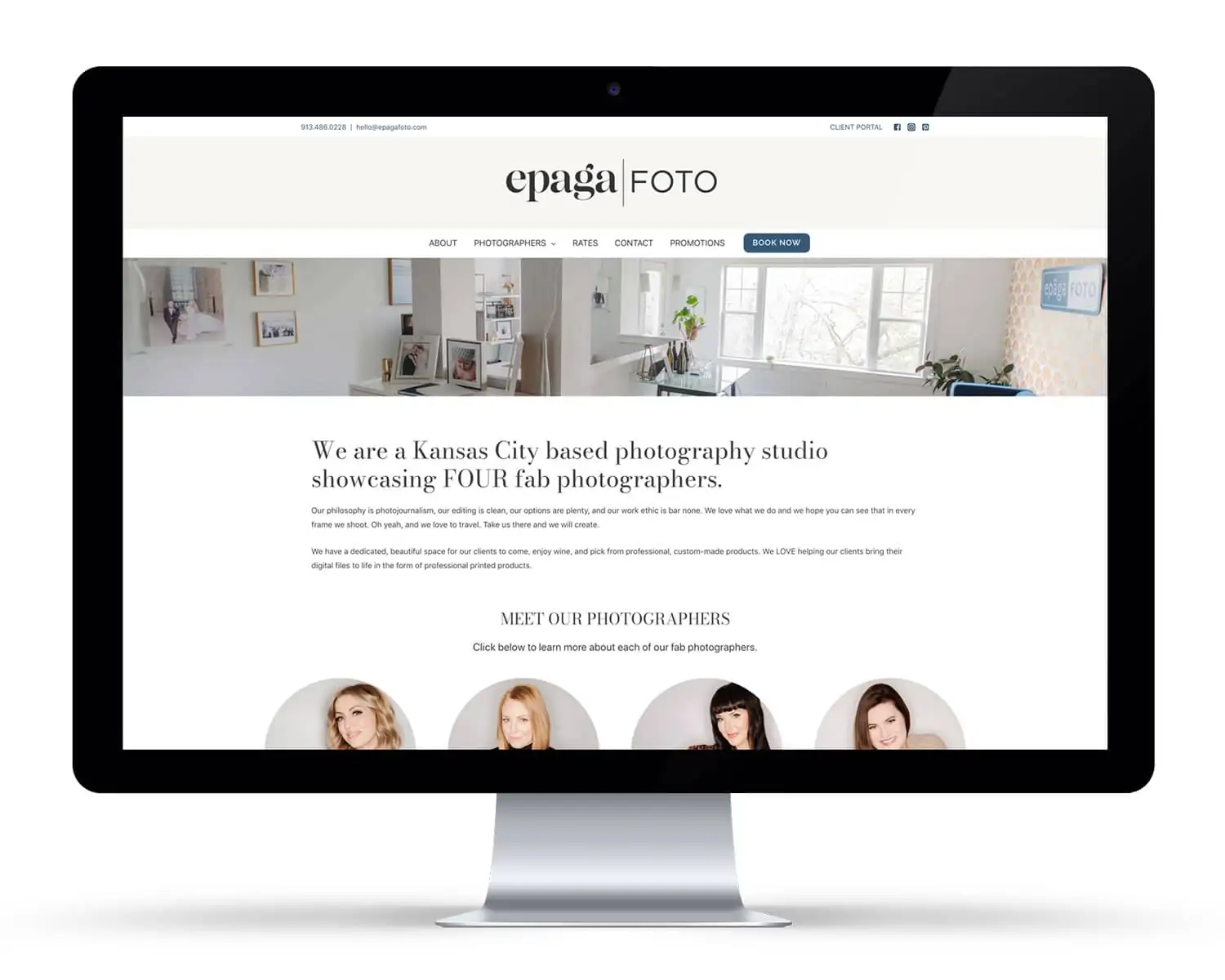 Click and drag the slider to see before and after the redesign of epagaFOTO.com.
Jessica Roark is a talented documentary wedding photographer in Kansas City. In 2015, she was in need of a new website for her small business.
The company that provided her existing website had originally built it in Flash. Without getting into the technical details too much, let's just say that Flash is obsolete. It won't load on Apple devices, so on a MacBook, iPad, or iPhone, you had to "view the HTML version of the website". You can see how difficult it would be to find and send clients to the right pages on the HTML workaround site below (see the wall of text that is the menu).
Need #1: a professional, modern website as beautiful as epagaFOTO's wedding images.
Need #2: simplify web hosting accounts.
Over the years Jessica had lost track of where her domains were registered, had missing or multiple logins to different/unknown services, and had started a completely separate WordPress blog because the current website was difficult to use and had no blogging features. There were around 4-5 different companies/logins involved we had to track down to get access to everything.
Multiple, missing website logins are the norm.
Your domain name might be registered with one company, your website hosting with another, email accounts with another, and so on. Rarely do we encounter an business with an existing website who knows exactly where all the website components can be accessed and how to do so (missing passwords, etc.).
We found all the information needed, and epagaFOTO now gets one invoice, from one company, with everything needed to keep the website up and running, as well as a single point of contact for all questions. There are still multiple accounts and passwords, domains pointing at servers and email hosting (because that's how the web works) but we manage all those details so she can focus on capturing weddings and engagements. But back to the redesign…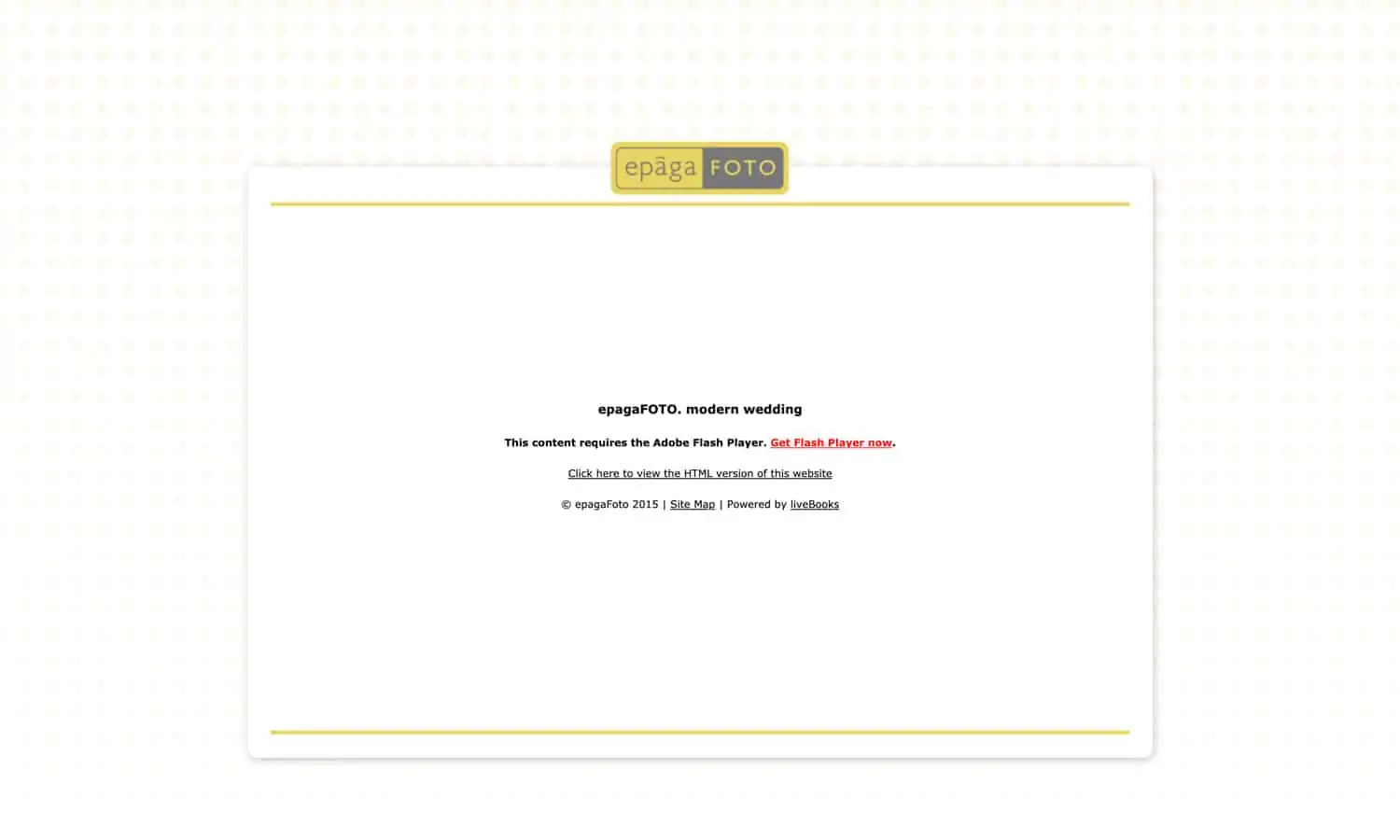 epagaFOTO.com old website (Flash fail)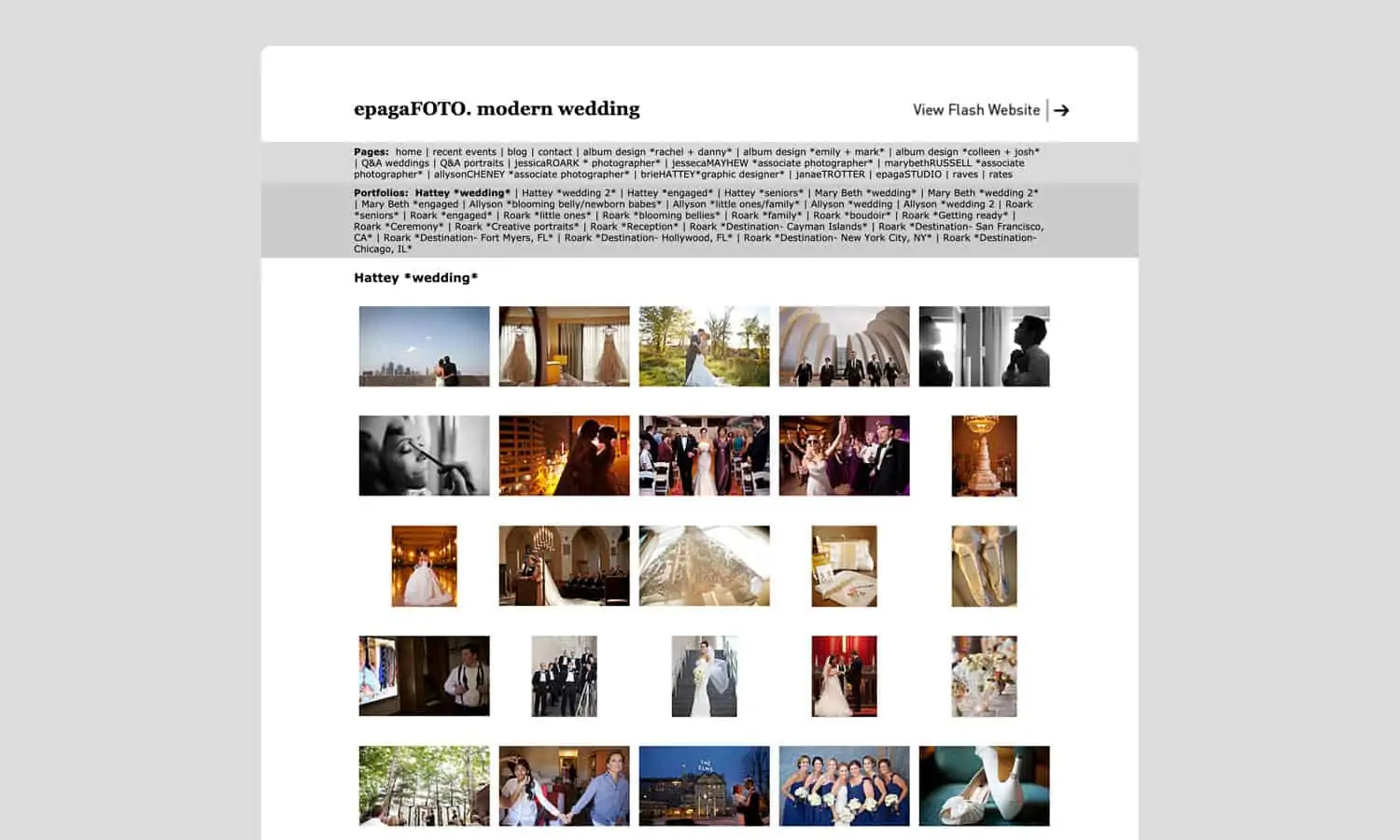 epagaFOTO.com old website (HTML version)
Website Redesigned on WordPress
Website redesigns are great because there's already existing content or page hierarchy to pull from, but there wasn't much here that was usable. We built epagaFOTO.com completely from scratch on WordPress with a responsive template (meaning it adapts to fit mobile devices).
Our focus is always on how to best organize the content so your users will be able to easily find what they need. We created a page for each individual photographer where all their information lives (biography, portfolios, rates, booking, etc.). Specific pages for rates and booking are easy to find.
We also migrated all old blog posts from the separate, existing WordPress blog epagaFOTO had been using into the new site. Blog posts are a cinch now, and the business will benefit from any blog traffic.
built in appointment booking for better website workflow
We build most of our websites on the WordPress platform, but we often incorporate other apps and services, depending on the business. In this case scheduling was incredibly important. epagaFOTO already used Acuity Scheduling, so we embedded Acuity forms for each photographer directly into the relevant pages. We also used a non-default plugin for galleries, as photographer galleries are often a little heavier than what's intended for default WordPress options.
Every cyclone press website client is given access to a premium form creator, which we used to create an entire wedding photography contract. Once digitally signed and submitted by a client, epagaFOTO is notified by email and receives a PDF for their archives. We're big proponents of using technology to streamline your business workflow.
epagaFOTO.com is now a beautiful, user-friendly website that adapts to mobile devices, performs time-saving functions like online scheduling, portfolio review and contract submission, and is maintained and updated as needed by cyclone press.
This is how we take a complex existing website and turn it into an easily managed WordPress site that beautifully showcases your branding.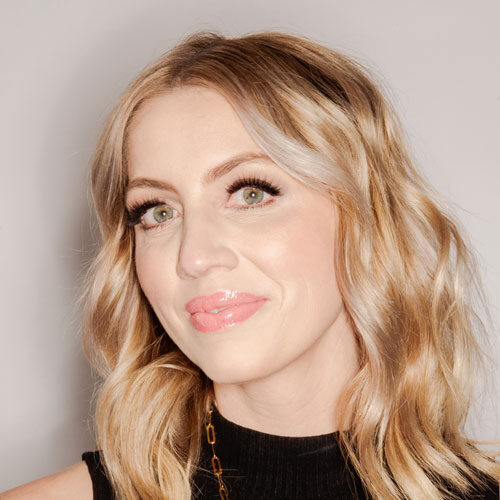 request a
free website assessment
Are you considering an overhaul of your website? Just want to know how it could be better? We can help. Request a free website assessment below. We'll run stats on your website and send you a report detailing those stats, but we'll also give you our feedback on the overall design or user-friendliness.